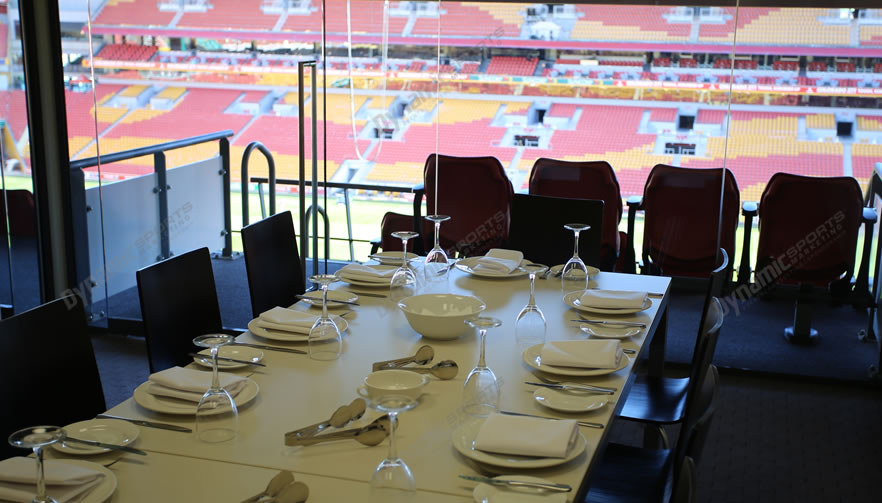 Private Suites:
Priced from $6350 ex GST for a 10 seater Gold Private Suite to to $14,500 ex GST for a 20 seater Diamond Corporate Suite, exclusive of catering
Private Suites are considered the ultimate corporate package, a private and intimate glass fronted room with sweeping views across Suncorp Stadium. Located in the Eastern and Western Grandstands and featuring a private seating balcony directly in front of the room, this package is perfect for high level corporate entertaining.
There are a range of fit outs and styles as the photos above demonstrate.
Suites have been catagorised into 2 types:
Manny Pacquiao vs Jeff Horn Private Suite Package Inclusions
10, 14, 18, 20 or 24 Private Suite tickets to gain entry into Suncorp Stadium, and then to the corporate suite level.
Sit-down table buffet or grazing style menu choice (additonal costs apply). Refer to more information about menus here
Beverages including beer, wine, spirits and softdrinks available (additonal costs apply) More information about beverages here
Fight Programs
Dedicated steward to serve you and your guests (additional costs apply)
Dynamic Sports Marketing senior management in attendance
Diamond Private Suites
Approximately between the 20m lines on a Rugby League field
Gold Private Suites
From the 20m line to try line/in goal areas on a Rugby League field.